* If Only ...
The Family Riley Could Have Had ...
How many of our children enjoy the love and security of grandparents? Grannies are generally our children's support systems. They're the one's who sneak them extra sweeties when Mommy's not looking, or hug them when people forget just how little they are, or how overwhelming everything around them can be at times.
.
An emotional Sheryl Sawyers, loving Grandmother of Riley Ann, holds Elmo doll (Riley's Christmas gift) Monday, Nov. 26, 2007, during a news conference at the Mentor Civic Center in Mentor, Ohio. Investigators announced that they were 'fairly confident' that Sheryl's granddaughter, Riley Ann Sawyers, is the toddler known as "Baby Grace" who was discovered in West Galveston Bay in Texas nearly a month ago. This is little comfort for Sheryl, whose heavy heart and aching arms longs to press Riley close against her. Like any grieving Grandparent or parent in her situation, she's searching for answers to the motive.
.
Although, we are sure Robert was more than an apt father-figure for young Riley ... in many cases Grandparents should have the option of being considered for custodianship, where parents do not meet the requirements.
Sheryl (Grandmother) and Robert (Biological father) Sawyers
A loving family - every little child's dream. One thing that struck me as I watched Sheryl being interviewed, is the tremendous love that she had for Riley as she spoke about her. Countless photos were shown of Riley, hordes of clothes tossed on the bed that she had purchased for Riley... and early Christmas gifts.
Riley will never wear those pretty dresses, and her Christmas gifts will always remain unopened in Granny's bottom drawer. A shocked family will sit at a Christmas table this year with one vacant chair ... one empty Christmas stocking hanging limply above a fireplace. Riley's excited laughter will never ring through the home again ... Dad will never have the pleasure of running around with his little girl, or tossing a ball around with her ...
If only ... If only custody laws can be revisited ... and the custody parent be thoroughly investigated before defenceless, vulnerable children are handed over to any one of the parents.
In many instances Grandparents should be considered for custodianship where parents might be deemed unfit.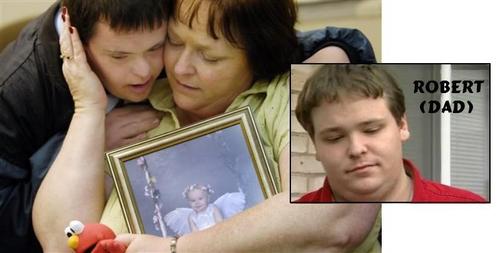 Royce Ziegler (Riley's Step father), and Kimberley Trenor (Biological mother)
Trenor, 19, told police Friday that Riley Ann Sawyers, the little girl known to many as Baby Grace, was beaten and tortured to death in the Spring home she shared with her husband on July 24.
After her arrest last week, Trenor told police she and Ziegler had beaten Riley with a belt, held her head underwater, and Ziegler had thrown the toddler against a wall sometime during the summer. When little Riley died, they stuffed her body in a plastic trunk and put it in a shed. After a couple of months, they threw the trunk in Galveston Bay.